Floor Mats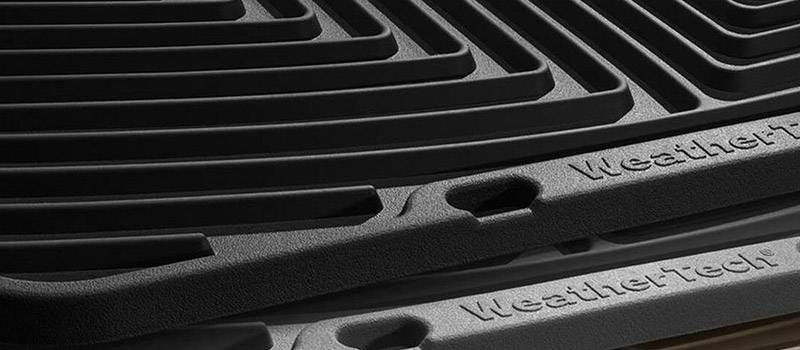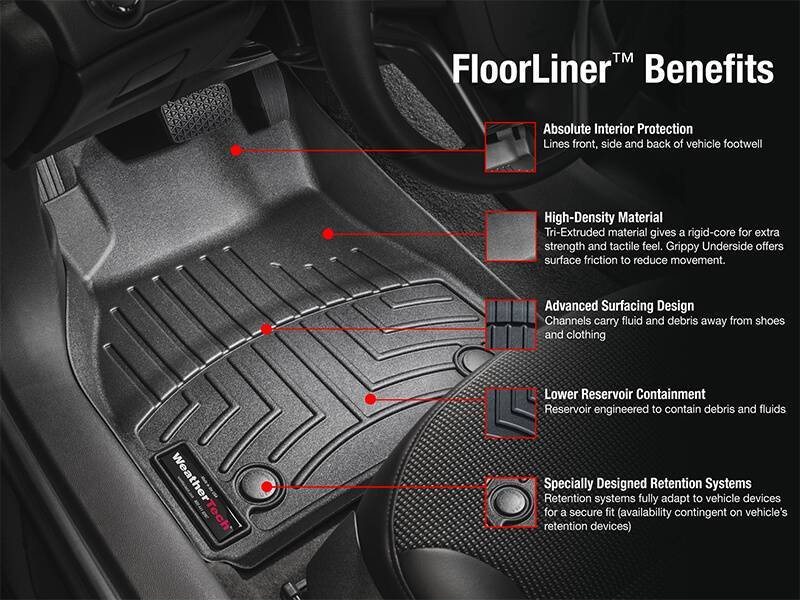 Pick Floor Liners, Carpet Custom Floor Mats, or All Weather Rubber Floor Mats
Floor Liners are vehicle specific all weather floor "mats" with a "lip" around the edge to protect the floor and the side walls of your floor areas. Often patterned by a laser. We offer several brands including WeatherTech, Husky Liners, MAXLiner and U-Ace.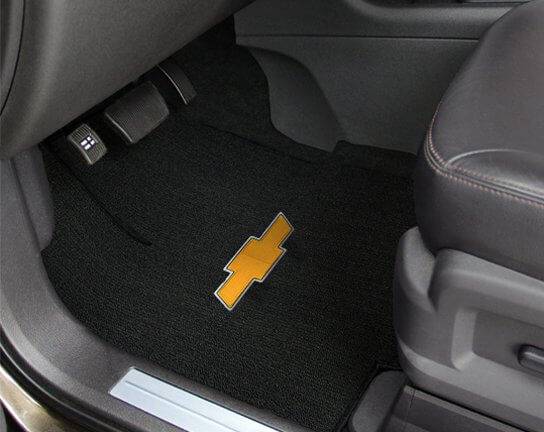 Carpet Floor Mats
Here at Autonotions we offer several brands, styles and types of vehicle specific carpet floor mats. For many vehicles on the road, we offer embroidery and logos. We offer several brands including Lloyd Mats, Avery's Floor Mats, ACC (Auto Custom Carpet), DesignerMat International, and Premier by CoverCraft
Learn More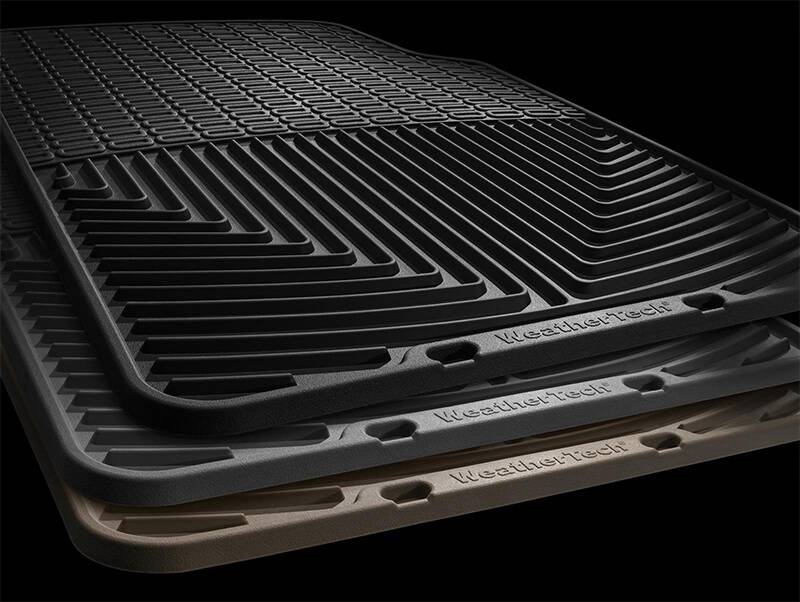 All Weather Floor Mats
All Weather Floor Mats are a low cost option and a great solution for seasonal floor protection. All Weather Floor mats are available for more older vehicles than floor liners. They are semi custom or universal fit rubber mats that don't offer side wall protection. We offer several brands including WeatherTech, Northridge by Lloyd Mats, HexoMat by Intro-Tech.
Learn More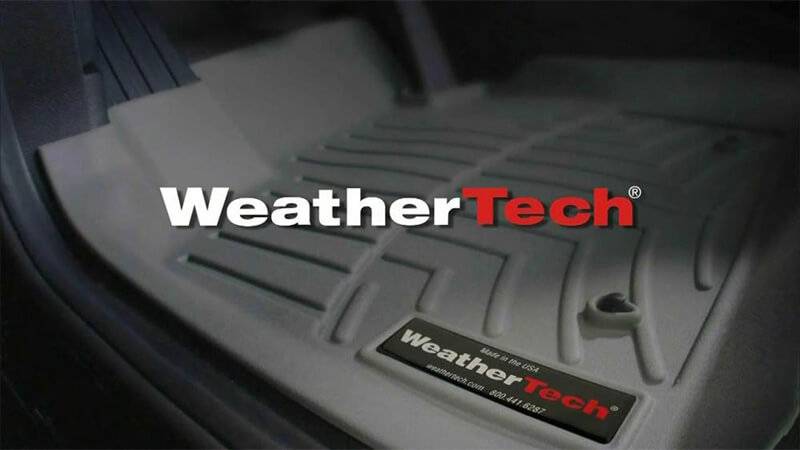 WeatherTech
When you want the best vehicle protection and fit you want WeatherTech. Every floor liner is custom-molded for a perfect fit. Not only is the fit unmatched they are made from a super durable material designed to hold up to any weather conditions or abuse you throw at them. Unlike other floor mats these have built in water channels to divert fluid and debris away from your feet.
The WeatherTech Floor Liner accurately and completely lines the interior carpet for maximum protection. These Floor Liners line the interior carpet up the front, back and even up the sides of the vehicle's footwell. The digital laser measuring of interior surfaces offers a consistently perfect fit!
We have a huge selection of WeatherTech Floor Liners to fit almost every style vehicle. From front to rear to cargo, we have you covered with WeatherTech.
Learn More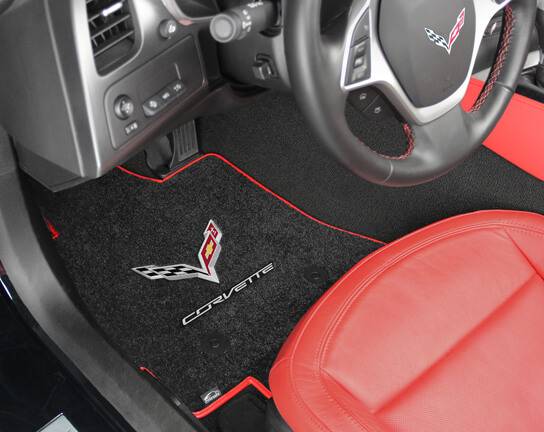 Lloyd Mats
Lloyd Mats are proudly made in America. Lloyd Mats is the largest automotive aftermarket manufacturer of all makes and models, custom fit carpet floor mats. Lloyd Mats' success has been built on providing quality products and shipping with industry leading service.
Lloyd Mats make your mats to your order, one set at a time. You choose the material, color, mat pieces and we'll build mats specifically for you. Lloyd Mats mats are not mass-produced. Lloyd Mats use state-of-the-art equipment and techniques and the highest quality materials to assure you receive the finest automotive mat products available.
Lloyd's Ultimat, Velourtex, LUXE, Berber 2, Classic Loop and newest product CamoMats are produced in Northridge, California from materials made in the USA. Lloyd Mats exact fit, precision cut passenger area car floor mats and cargo mats are available for vehicle applications from the 1950s to the present, for all cars, trucks, and SUVs.
Lloyd manufactures factory replacement custom car mats in materials specifically designed and engineered for automotive use. Lloyd Mats have over 100 carpet mat colors to match or complement any automotive interior. Lloyd Mats offer over 1000 licensed automotive trademark emblems, lifestyle, military and personalized embroidered designs on our carpet auto mat products.
Lloyd Mats all weather mats are available in three materials and 13 colors, including clear.
Learn More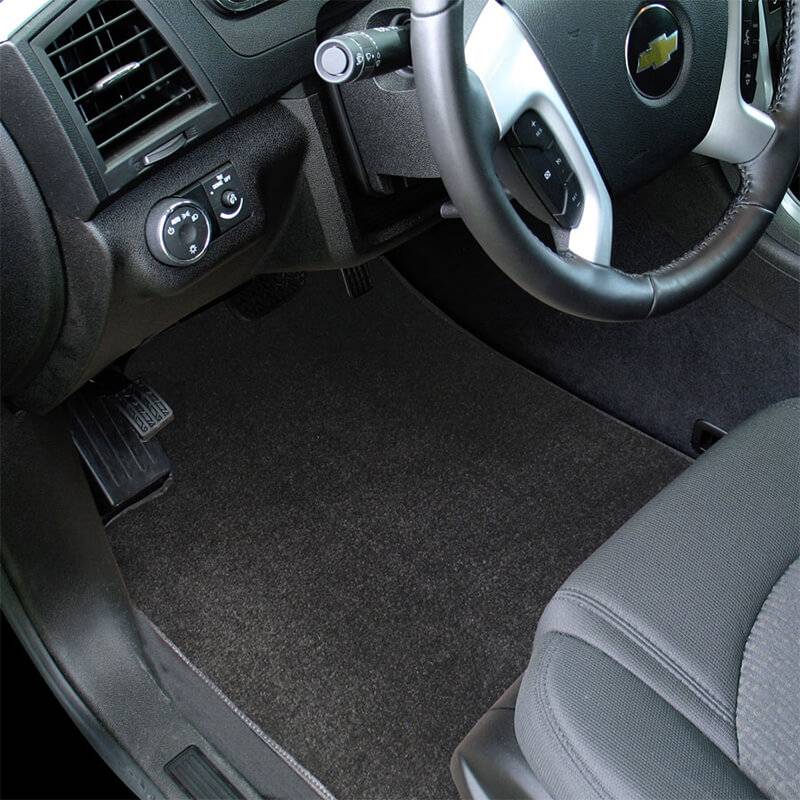 Avery's Floor Mats
Avery's Floor Mats offers a full line of automotive-carpeted floor mats for cars, trucks, vans and suvs. Avery's Floor Mats also produces floor mats for combines, tractors, fleet trucks and golf carts. Our mats will fit your active lifestyle and will perform wonders for your interior. Our mats are equal to OEM or offer better coverage in most cases. Our business was created to offer you multiple choices of flooring protection including, Stain Resistant Select Touring floor mats, Luxury Touring Berber Floor Mats , plush carpeted Grand Touring or Touring mats.
Learn More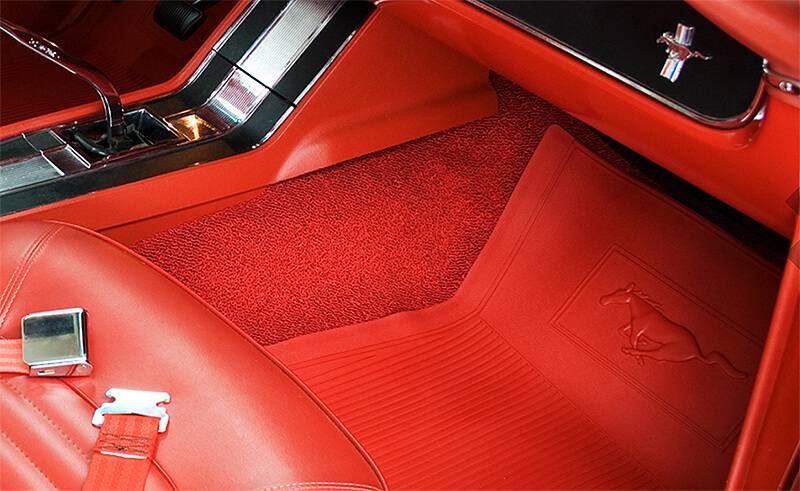 ACC - Auto Custom Carpet
World's Leading Manufacturer of Automotive Replacement Carpet. Nothing makes a bigger impact to the interior of your vehicle like replacing the carpet. Auto Custom Carpets, Inc. (ACC) is the industry leader of auto replacement carpet and floor mats. We manufacture more automotive flooring products than all the competition….combined. If you are looking to replace the carpet and the floor mats, check out ACC first! There are a lot of companies making floor mats these days but with limited colors and options. What sets ACC Floor Mats apart is they are manufactured in all the same true automotive-grade materials and colors as our carpet flooring products. This allows us to insure a great match. All ACC Floor Mats are die cut based on your year, make, and model vehicle, insuring a perfect fit. Don't settle for a set of floor mats that are only close in color to your vehicle's carpet, choose the ACC brand floor mats that will complete your vehicle's interior.
Learn More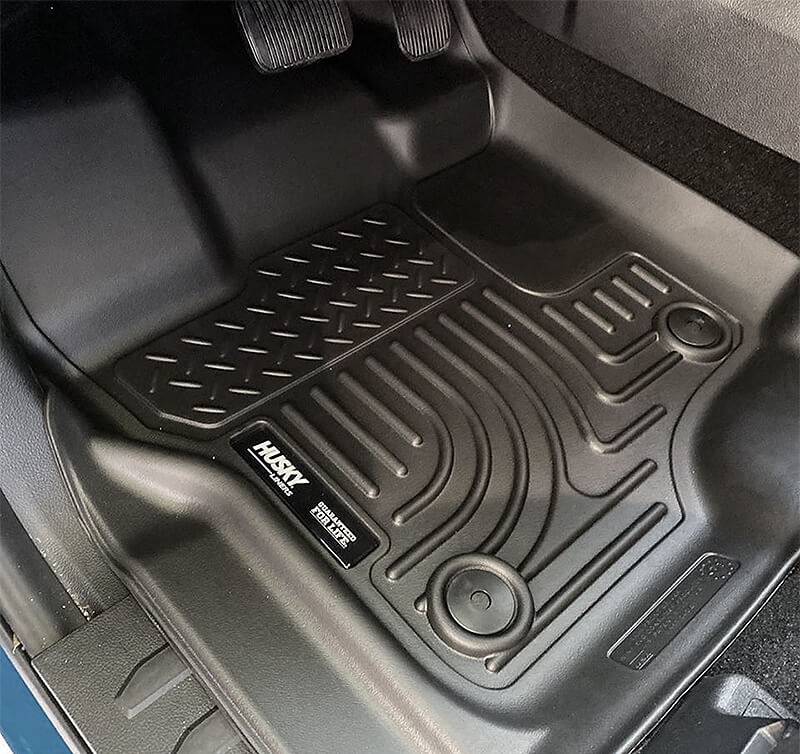 Husky Liners
We get it....life happens. That's why we're here to catch the mess. Do your weekend adventures leave your floor liners messy? Don't worry, we've got ya covered. Our floor liners eaaaaaasy to clean. Just yank, dump, wash and replace. Wa-lah - good as new. Husky Liners are Made in America Top Quality Floor Liners. Optioins: X-Act Contour, WeatherBeater, and Classic Style.
X-Act - Perfectly matches the contous of your vehicle with indestructible strength and a soft comfortable cushion.
WeatherBeater - Rugged and sporty with un-beatable carpet protection for whatever nature hurls at you.
Classic Style - The Original All-Weather Liner - With a rugged diamond plate look, the Classic liners offer protection for vehicles dating back to the 70s.
Learn More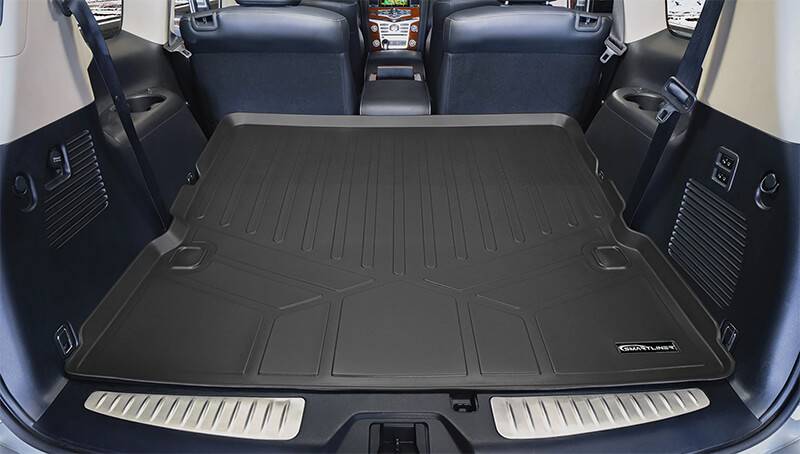 SMARTLINER - MAXLINER
SMARTLINER - MAXLINER floor mat liners are made by precisely 3D scanning the interior of your vehicle. SMARTLINER products are a plastic-rubber blend and polyethylene, meaning that over time your floor liners will not break or crack. It is stiff and yet flexible, making it easy to install and durable so it will never lose it's shape. Furthermore, with all-around raised edges, SMARTLINER makes sure that messes stay in the liner and off your clean carpet. Easy to install, easy to clean 100% odorless protection with modern style that gives your car, truck, van, or SUV interior a first class look while protecting the resale value. The best part is that you are not limited to just one color, we have multiple color selections to best fit your style.
Learn More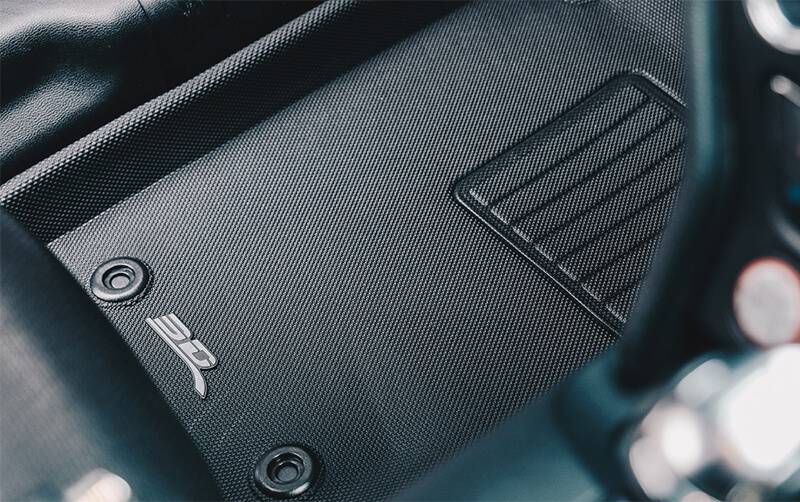 3D by U-Ace
One of our favorites! Unlike the traditional floor liners with heavy weights, commercial rubbery looking; 3D KAGU all-weather custom fit floor liners are the revolutionary interior protection for your vehicles with an innovative, unique three-layer structure. The digitized three dimensional design measured to exact cabin contours of your vehicle for trapping mess and spills. The patented anti-skid bottom layer keeps mats in place without harming the original carpet and without leaving marks like nibs of traditional rubber floor mats. Surface layers made of Thermoplastic Rubber of carbon fiber texture to complement different vehicles as the unique style you desired. The innovative XPE inner layer minimizes foot fatigue and provides the sound barrier for a quieter ride; yet the material is non-toxic and odorless. 3D KAGU all-weather custom fit floor liners give the style you desired and the peace of mind for your factory carpets when spills happen.
Learn More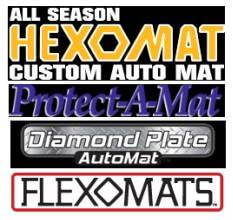 Intro-Tech - HexoMat, Protect-A-Mat, Diamond Plate and FlexoMats
4 great options in all weather floor mats. These are vehicle specific with over 8,400 patterns available including: full front overalls, rear overalls, cargo / trunk mats for all SUV's, minivans, cars and trucks. All patterns are computer precision cut to guarantee consistency in design and fit. Protect-A-Mat is designed to go over your carpet mats so you enjoy the color match of your carpet mats without getting them direct. The HexoMat, Diamond Plate and FlexoMats floor mats are to use instead of carpet floor mats.
Learn More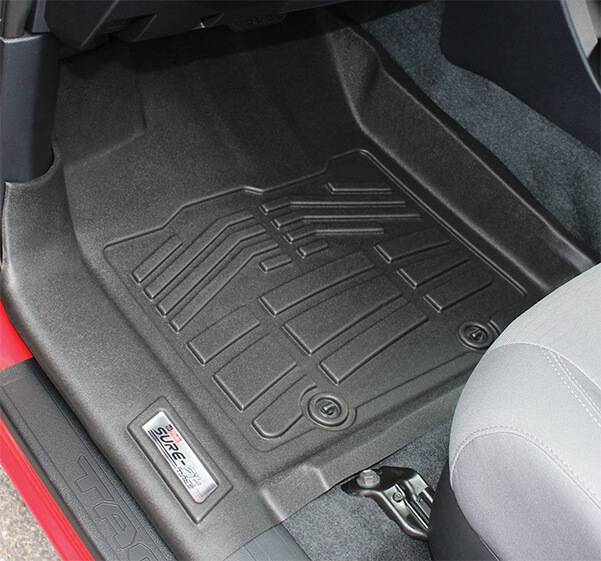 Westin
You have 2 great options for Floor Liners with Westin Automotive. Profile Floor Liners and Sure Fit Floor Liners
Profile Floor Liners - Easy to install. Made of Flexible, durable, and odorless rubberized polymer. These liners maintain their shape in heat, cold and from loads. They are designed to contour the vehicle floor area. They offer a lip up to 2 inches high around the edges to keep spills and debris contained.
Sure Fit Floor Liners - Full coverage design. They have a rigid core and tactile surface. They protect carpet for longevity. They come equipped with OE retention hood openings and 3M securing points. These offer Door Seal Coverage on most applications.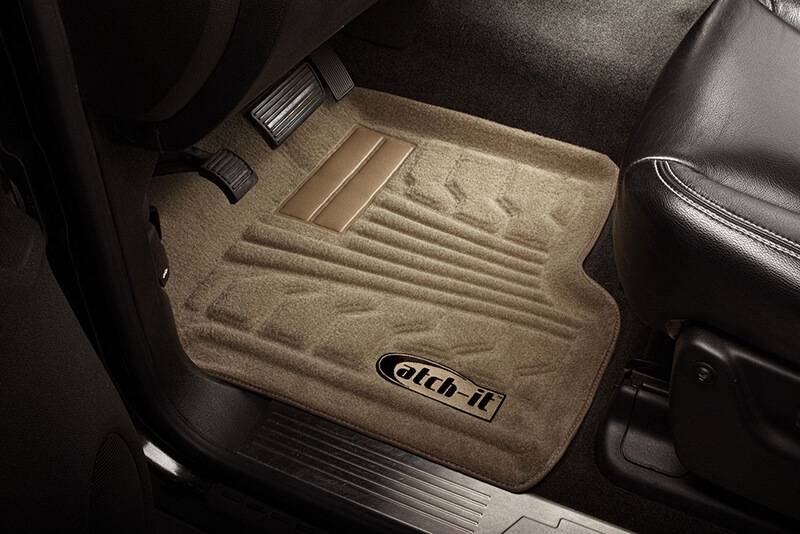 Lund Catch-It Carpet Floor Mat
LUND's Catch-It Carpet floor liners provide rugged all-weather protection with the style and performance engineered to last a lifetime. The custom-molded design fits your vehicle perfectly for full coverage, a factory-installed look, along with an aggressively nibbed underside ensuring your liners stay firmly in place at all times. The Catch-It Carpet floor liners also feature a raised perimeter design for added protection keeping spills from running off the liner.
Learn More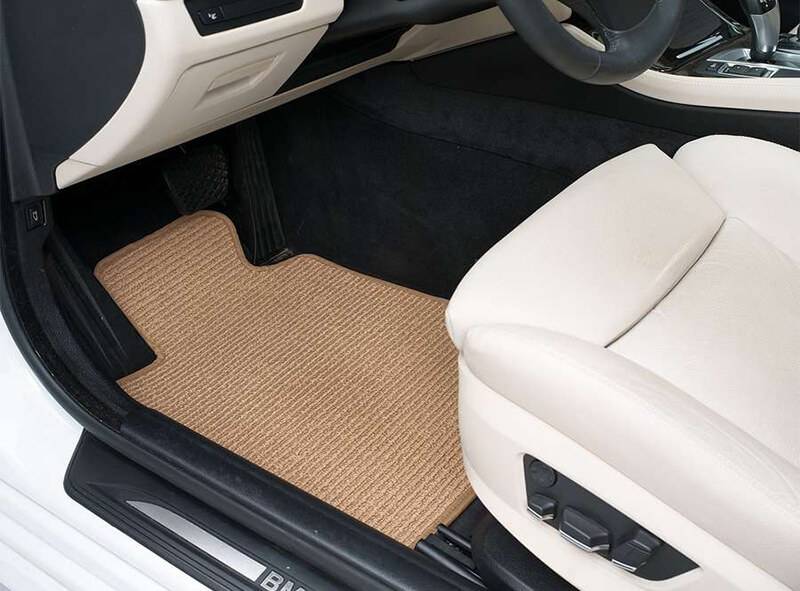 Premier by CoverCraft
Premier Floor mats offer you 2 great options: Plush Carpet and Berber.
When you want a retro look in your vehicle that adds a sense of refinement you want Covercraft Berber Floor Mats. Custom-made to fit your exact vehicle floors. Berber is one of the most popular carpeting materials for its rugged performance, durability and long wearability. Each mat is backed with a heavy-duty nibbed backing to help provide a solid footing that won't slide as well as provide a waterproof barrier for any spills or muck.
Covercraft Berber Floor Mats are available in 5 classic colors that are sure to compliment any interior. Match your factory carpet for a sleek look or contrast it so that they catch the eye when you open the door. These mats are made to protect your factory carpets so that when it's time to sell your vehicle your floors are not trashed.
We use a retro weave technique that not only adds style but also helps scrape your shoes while you drive, trapping dirt and debris as your feet slide back and forth. This helps keep the muck off your shoes while also adding traction to your footing while you drive. Our Berber Floor Mats are available for a wide range of cars, trucks, SUVs, and vans.
Our Plush Premier Carpet Floor Mats by Covercraft are our a popular custom carpet floor mat with 11 color options and a super soft, plush feel. Seriously with these floor mats, you may just want to kick those shoes off and slide your tired feet back and forth.
Don't worry about these Plush Mats getting away from you, we have a heavy-duty nibbed backing that helps keep them secure while providing a waterproof barrier to protect your factory carpets. Between the plush carpet and heavy-duty backing, these mats have a solid feel. Most floor mats also come with grommets to match your factory grommets for added security.
Each floor mat is specially patterned to fit your exact vehicle and can replace those flimsy factory floor mats or provide the protection your floors need if they didn't come with them.
Learn More